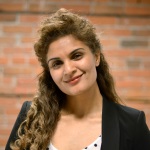 Ammneh Azeim
Speaker: Product Strategy: Bringing Organizational Change
Many organizations are trying to break through the market or introduce innovation through their products and services. A product or service doesn't stand a chance if organization's structure and operations are not striving to achieve the product vision. We see a lot of that in public sector where product teams tend to feel more vulnerable to organizational silos and political humdrums. 
With this talk, I'll be sharing case studies of working with public sector organizations that are trying to bring forward change in the way a service and product is delivered to public. We will be sharing the challenges the product teams face and how to overcome those challenges.
Ammneh is the team lead for UX design and strategy team at iomer internet solutions. She has been in information technology field since 2002. At iomer, Ammneh provides strategic direction to public and private sector customers and their managed information technology projects.  She is a founder of User Experience Edmonton group, where she has been providing guidance and leadership since 2009. Ammneh has also taught User Experience theories at Grant McEwan University. She is actively involved in IT community and speaks at various events including a speaking engagement at Information Architecture Summit in Baltimore (April, 2013), World IA, acted as a mentor for Health Hackathon Edmonton event and spoke at Startup Edmonton regarding UX research methods and design.
Lejjy Gafour
Speaker: Communication with Flexible Documentation The fundamental process we follow of how we understand design problems, users, and content hasn't changed much, but the documentation we deliver and how we deliver it is a bit in flux. We're experts in cognitive science, usability, and solving problems with design. However device fragmentation forces us to think through flexible experiences with portable content and in turn, to rethink how we communicate to our clients throughout the process.
Lejjy is a Solutions Architect for the University of Alberta. Specializing in Enterprise Architecture and User Experience, he has recently been using techniques from both worlds to create a more cohesive strategy and execution plan for his domain. This last year he was lucky enough to get a User Experience certification from Nielsen Norman group, and look forward to more!